CREATE AN ENVIRONMENT YOUR HORSE WILL STAND FOR!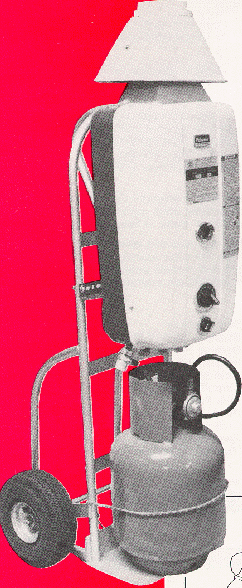 Completely Portable -- take hot water wherever you need it.
Quick Connect Hose Fittings -- fits standard garden hose.
Maintenance free, built for a lifetime of service.
Endless Supply of Hot Water -- heats instantly, easily adjustable temperature control.
LP Gas Burner -- provides high efficiency and energy savings.
Mount on Wall or Dolly
Dolly, Propane Tank and Regulator Not Included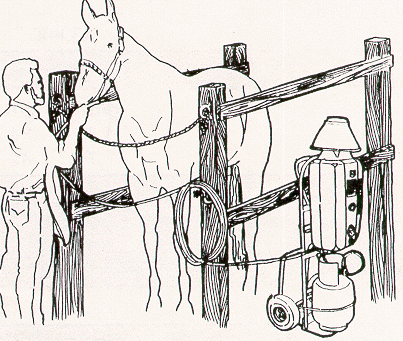 Let's say you've just finished a strenuous workout. you're hot and sweaty, your muscles ache, and you're really tired. Do you hop into an ice cold shower or immerse yourself in a tub of cold water? Absolutely not! You most likely use warm water to wash away the sweat and dirt, relax tired muscles, and cool your body heat gradually.

Whether a prized show horse, high stakes race horse, muscular draft horse, or faithful pleasure or buggy horse, your animals need the same muscle and fatique relief as you do.

At last there's a portable water heater system you can take anywhere you need it--the barn, race track, horse shows. All you need to give your animals warm water showers is a water faucet and a garden hose!

This water heater can be mounted on a dolly, a post, or a wall. All you .need is a 20# LP tank and gas hose with a pressure regulator (like your barbeque grill has). Connect a garden hose to the cold water inlet of the heater and your spray hose to the hot water outlet, and you're ready to go.

We really recommend the Model PH-12 because of its higher flow rate (3 gallons a minute). This model will add 70 degrees to the water coming into the heater. At 900 a gallon for LP gas, it will cost about $4.00 to fill your 20# LP gas tank. This 20# tank will give you about 870 gallons of hot water before it needs refilling. That's a lot of hot water for only $4.00! If you want cooler water, just reduce the gas input on your heater, and your 20# tank will last even longer!

Safe efficient, virtually maintenance free, our water heaters are built for a lifetime of service. Give us a call and order yours today. You and your animals will be glad you did!